Welcome to Digant Technologies, your partner for Telecom Automation & Monitoring Solutions!
Integrated Intelligent Power Source Automation (I2PSA)
Digant's Integrated Intelligent Power Source Automation is used for switching the load automatically on to EB, Battery bank or DG based on the power source available at any given time and used for automating DG operations. The system monitors the grid supply, Telecom battery bank voltage, DG battery voltage and various alarms continuously, automatically starts and runs the DG set if the supply from the grid is not available and the battery bank voltage is lesser than pre configured threshold voltage. The system monitors and generates various alarms and makes efficient and optimal use of diesel generator in cases of non-availability of grid power.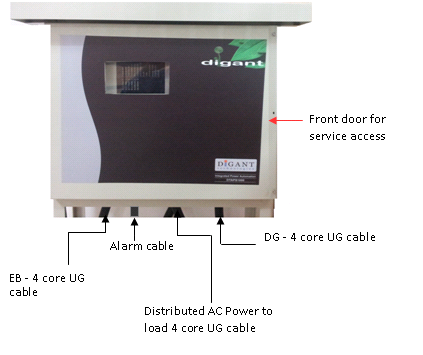 Features
Technical Specifications:
Parameter
Specification
Operating Voltage
36VDC to 72VDC
Telecom Battery bank monitor
Battery bank voltage measurement
DG battery monitor
DG Low Battery voltage detection
Power source automation
Auto / Manual mode
Phase Selector modes
Single phase or two phase or 3 phase
DG automation
Auto DG ON / OFF
PFC alarm outputs (NO,COM,NC)
12 Channel
Configuration port
RS485
LED Indicators
Alarm outputs, EB and DG power source
EB AC contactor
25A, 40A, 60A, 80A
DG AC contactor
25A, 40A, 60A, 80A
Load Current Supported
25A, 40A, 60A, 80A
SPD
Type 2 / class II
Connectors for alarms output
Terminal block type
Housing
IP63
Mounting
Outdoor
Operating Temperature
-5°C to +60°C
Humidity
95% non-Condensing RH

MCB-AC (ACDB Panel)


Rated current
Rated voltage
Rated Frequency
Number of poles
Rated short circuit breaking capacity
Rated insulation voltage
Rated impulse voltage

6A ,16A,32A and 63A MCBs for each phase
240 / 415V AC
50Hz
1P (Single pole)
10kA
660V
6kV

DG battery charger


Input Voltage
Output voltage Float Mode
DC Boost Mode
Charging current in boost mode / float mode
Output over voltage (Batt charger included)
Output short circuit and overload
Battery reverse polarity

150-300 V AC
13.4 V DC
13.9 to 14 V DC
10 amps / 0 to 4 amps
15.5 V DC
Continuously protected
Protected latching mode
Note : This product is available in four models
Integrated Intelligent Power Source Automation with 25A EB, DG contactors and MCBs, SPD,ACDB panel and DG battery charger – DTI2PSA1000

Integrated Intelligent Power Source Automation with 40A EB, DG contactors and MCBs, SPD,ACDB panel and DG battery charger – DTI2PSA1001

Integrated Intelligent Power Source Automation with 60A EB, DG contactors and MCBs,SPD, ACDB panel and DG battery charger – DTI2PSA1002

Integrated Intelligent Power Source Automation with 80A EB, DG contactors and MCBs, SPD,ACDB panel and DG battery charger – DTI2PSA1003