Welcome to Digant Technologies, your partner for Telecom Automation & Monitoring Solutions!
ALARM MULTIPLEXER: DTALAMUX1000 (Indoor)
Alarm multiplexer indoor unit DTALAMUX1000 is a versatile, reliable and ergonomically designed product from Digant Technologies. This product supports 8 channel alarm inputs and 16 alarm outputs with potential-free relay contacts (NO, NC and COM).
Alarm multiplexer can be used where alarms generated from the power plant are to be monitored by telecom tower companies and telecom operators.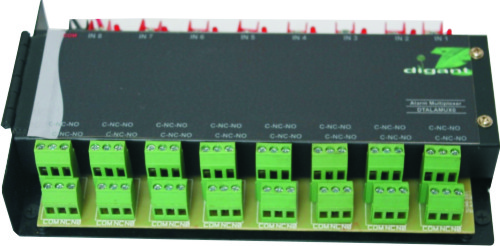 Features
Supports up to 8 channel alarm inputs
16 alarm outputs with potential-free relay contacts ( NO, NC and COM)
Extends 8 alarm inputs up to 2 tenants, 8 alarm PFC outputs per tenant
Extends 4 alarm inputs up to 4 tenants, 4 alarm PFC outputs per tenant
Individual relays are replaceable in the site on any fault found on the relay
1.5KV Surge withstand voltage between coil and contacts
LED indications for alarm inputs
Easy installation and commissioning
Wall mounting / Din rail mounting (Indoor)
Specifications:
| | |
| --- | --- |
| Alarm Input | 8 channels (36VDC to 60 VDC input) |
| Alarm Outputs With PFC | 16 channels with NO, NC and COM |
| Relays Contact Rating | 2A@30VDC, 0.5 A@ 125 VAC |
| Connectors | Terminal block type |
| Operating Temperature | - 20 °C to 60 °C |
| Humidity | 5% to 85% non-condensing RH |
| Dimension (L x W x H) in mm | 215 X 115 X 36 |
| Mounting Types | Wall mount / Din rail (Indoor) |