Welcome to Digant Technologies, your partner for OEM Solutions!
Internet Gateway
Digantís Internet Gateway reads various parameters of the Device which is connected through RS485. IG fetches the device parameters, though the Modbus RS485 registers of the device and sends the data to the application server at centralized locations through GPRS.
It is designed specifically as an interface to read various parameters of any device with RS485 interface. This integration allows those parameters to be confined on thresholds that can be configured and monitored in order to trigger events or actions.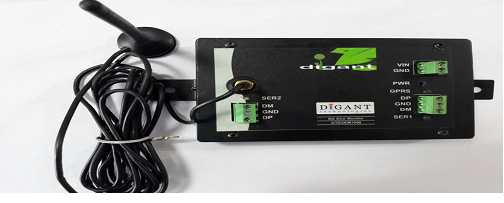 Features
Reads and Monitors various parameters by reading the registers in Modbus Register Map of the devices
Generates alarms if any of the device parameter value changes below or above the threshold
MODBUS RS485 port for communication with any devices
Data storage in case of failure in GSM / GPRS
Internet Gateway sends all the data to the server and the data can be viewed on the dashboard. The data also helps to generate reports
SMS alerts can be sent to the configured phone numbers on the occurrence of various events. SMS is sent from the server side.
Firmware up gradation Over the Air
Specifications
| | |
| --- | --- |
| Power | 12VDC to 72VDC |
| Backhaul Communication | GSM / GPRS |
| Communication Port | 2 X Modbus RS485 ports for connecting to the device RS485 port through Cat5e cable. |
| Remote Configuration | Through the admin dashboard |
| LED Indication | LED indications for power and GSM / GPRS status |
| Operating Temperature | (-20 deg C to +60 deg C) |
| Mounting Options | Wall mount |